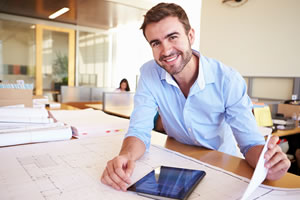 Is your office more 80's Fleet Street than uber chic Google? Are you struggling to fit new personnel into a poorly designed space? If you're surveying your workspace and finding it doesn't meet your needs, then rather than go through the stresses and strains of relocating the whole business, why not, first of all, see if the existing space can be remodeled to meet your needs?  Planning an office refurbishment needn't be daunting. With the right planning, the process can be relatively painless and the long-term benefits will definitely outweigh any short-term disruption. Here's our essential guide to take you through the process – from inception and planning to completion of the new workspace.
Why Refurbish your Office Space?
Before embarking on any office redesign you should clearly outline your aims and objectives. Refurbishing your office can help you address many needs, including:
Creating a new reception area, as first impressions definitely do count
Generating space for additional personnel if your company is growing
Modernising the workspace to incorporate the latest trends
Opening up the space to create an open plan layout
Improving built-in technology 
Enhancing natural light
Incorporating biophilic elements such as living walls to improve health and wellbeing
Remodeling the workspace to include breakout zones and/or meeting rooms
Reinforcing brand identity and company values
Improving working conditions for employees by addressing privacy and noise issues 
Allowing flexible working, through the creation of hot desk zones
Boosting productivity and creativity by enhancing the working environment
As you can see, choosing the right design for your office refurb can have a dramatic effect on the health and wellbeing of your employees – all of which will translate to improved productivity and less days lost due to illness. It's also an excellent opportunity to incorporate modern technology such as charging stations, switchable glass partitions, and elements such as smart heating, lighting and air conditioning.
Key Planning Stages for your Office Refurbishment
All office refurbishments, no matter how large or small, should include the following stages. By following these simple steps, you can ensure the project rolls out smoothly and your newly spruced office is ready to move into – on budget and on schedule.
1. Determine your budget
Once you've identified your aims and objectives, it's time to get down to brass tacks. How much can you spend on your refurbishment project? Deciding how much you can afford will give you an accurate picture of what you can reasonably achieve, so this step is key as it will give you a realistic idea of how much can be done. Just like when you're buying a house, by listing your key wishlist you can easily see what's a 'must have' and what's a 'nice to have' so that if costs start to rise, you can easily discard the less essential aspects of the new office design.
As a general rule of thumb, a mid-range refurbishment can range from £40-£70 per square foot, while a high-end project can set you back upwards of £100 per square foot. This is, however, a rough guide, and this is why it's important to follow step 3 wisely.
2. Put together a project team
Large businesses have internal teams such as Operations and Facilities Management to run office refurbishments. However, most businesses won't have this luxury, so it's really important to put together an internal team to oversee the new design. This team should seek the opinions from all departments, to ensure all needs are met, as well as expectations managed. This team will usually liaise with an external design company to implement and oversee the redesign, and this is where step 3 comes in.
3. Appoint a Commercial Refurbishment Company
Once you've outlined your aims and objectives, agreed your overall budget and put together an internal team to oversee the process, it's time to select an office fit-out company. While it might be tempting to keep the project internal, there are many benefits to using a good design agency, including:
Creative advice to solve your business needs
Understanding of the latest office trends, and what will work for your company
Accessing the best prices from manufacturers
Being informed of the latest tech available
Staying compliant with Government health and safety regulations
Management of contractors
Helping ensure your project stays on budget and is delivered on time
When selecting an agency, you should definitely do your research. Check their qualifications and experience, read customer testimonials and ask to see examples of their work. Make sure your vision is something they understand, and ideally select an agency that's worked on something similar in the past, and within your industry sector. It's also really important to check that previous projects have been delivered on time and on budget, and if challenges have been faced along the way (as can often be the case with any building work) that the company has demonstrated flexibility and communicated well with their clients.
4. Finalise Plans
Once the agency has been selected, designs agreed and budgets finalised, it's time to sit back and watch the magic happen. Make sure your project team meets regularly with the designers, making sure that everything is proceeding according to plan and if budgets need to be adjusted, then you can work together to agree solutions. One really important aspect to consider is whether you're going to be working as usual while the refurbishment continues around you – some businesses will be able to pare down the workforce with people working from home, others will have to move around while the work is completed. If you are remaining in situ, then check that the agency works at the weekends and evenings, to minimise disruption.
5. Selecting Office Décor and Furniture
This is the fun part, and where you can get really creative. Work with the agency design team to create the perfect work environment for your employees, one with stimulating design elements, and that incorporates your branding and company values. This isn't about running to Ikea for desks, there are really so many options, depending of course on your budget. Here are some great ideas for modern design themes we've seen in recent years:
Living walls – these look particularly good in a reception area, and by bringing nature in, you'll also improve air humidity, improving health and wellbeing.
Switchable glass – if you're looking to enhance natural light and an open plan feel but still need privacy, using switchable glass on meeting rooms will maintain light levels, but turn opaque at the flick of a switch.
Treadmill and standing desks – with fitness being at the top of the agenda for most of us, why not work out while sat at your desk? Standing desks are also great as you not only burn calories while standing, but it's better for your posture than sitting all day and has also been shown to improve creativity.
Breakout zones – you may not have room to create slides, gaming zones and barista coffee stations, but creating smaller, breakout zones or 'nooks' are great for employees, allowing collaborative work and/or a quiet space for those who need it.
We hope that's helped you get started on your office refurbishment. If you want further advice then please don't hesitate to get in touch. At times like these when work might quieten down, spending money on your business might be the last thing on your mind, but why not take the opportunity to get those improvements implemented? That way, when there's an upswing – and there will be – you'll be ready to spring straight into action in your lovely refurbished office. For more information on how we can help, contact us on 01256 769343. Alternatively, complete our contact form and one of our experts will be in touch with you.