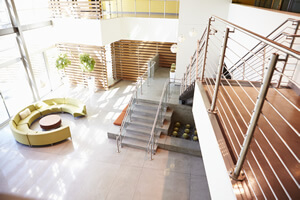 In recent years, office styles have definitely undergone something of a renaissance. Dark, soulless warrens of cubicles have given way to bright, open-plan office spaces. Tech giants, in particular, have championed breaking down the barriers of solid walls and enclosed offices, with Google and Facebook, in particular, embracing this new trend and non-hierarchical way of working. This is because there are many disadvantages of working in an enclosed office, including isolation, loneliness, lack of communication and lack of supervision, to name but a few. However, working open plan can also be challenging. In this article, we'll explore the pros – and the cons – of an open plan office space:
The Advantages of Going Open Plan
1.     Better Employee Relations
When you work in an open-plan office, it's far easier to regularly interact with your work colleagues. Breaking down the physical walls means that people are far more approachable. The level playing field also means that people are more accessible, and different teams and superior and junior staff are more likely to get to know each other. Fundamentally, we're all social beings and getting to know work colleagues definitely improves the social atmosphere in an office. It also makes it far easier for new people to integrate into teams, and fosters good working relationships.
2. Increased collaboration
An open-plan layout not only benefits the social climate in an office, but it also promotes collaboration, as staff are far more likely to share ideas. As Steve Jobs himself quoted "Innovation comes from people meeting up in the hallways". Being able to spin around in your seat and have some non-judgemental 'blue sky thinking' is far more conducive to innovation than the pressures of a formal meeting in a boardroom. It's also great for learning, with people able to get up to speed on new projects far faster than would be possible in separate offices.
3. Health benefits
In terms of health and wellbeing, there are multiple benefits associated with working in an open-plan office. Not only will employees be happier in the workplace, with the enhanced social atmosphere and collaborative environment, but this layout also encourages employees to move around more and not to remain sedentary and isolated at their desks. A study published in 2018 demonstrated that workers were 20% more physically active in an open plan space than those working in cubicles. Another important health benefit is that taking down the walls lets in the light. Literally. No more dark, secluded offices. Working in a good combination of natural and artificial light is known to lift the spirits, improve health and productivity and can help reduce levels of sickness.
4. Budget saving
An open-plan office configuration can convey considerable cost benefits to a business. In terms of employee health and happiness, by reducing the sickness rate, efficiencies and outputs are greatly improved. Another benefit is that by allowing more natural light to flood into the office, energy costs will be lower. Whether you're reconfiguring an existing office, or creating a brand new business space, setting up an open plan layout is far less expensive in terms of construction that individual offices. Another important factor is that an open-plan floorspace will accommodate a greater number of staff, as well as reduce the need for individual office equipment and office supplies.
5. Greater flexibility
Open-plan spaces are far easier to reconfigure than a traditional office layout. This allows companies to be more dynamic. In a growing company, this means that staff numbers can easily be increased, but also in a business undergoing organisational restructuring, any movements of personnel will be straightforward to achieve. It's also far easier to adopt hot desking in a more fluid work environment.
…and The Disadvantages
Bringing people together in an open-plan office definitely brings a great deal of benefits to any business, but it can have several drawbacks. These include:
1. Greater distractions
Open-plan spaces without even low partition walls can be loud and chaotic, and these distractions can make it difficult to focus. This is particularly difficult in call centres or if you're close to the sales division, as it's difficult to be creative when all you can hear is other people's phone calls.
2. Increased noise leads to isolation
In a loud, open-plan office, many workers use headphones to help them cope with the ambient noise levels. This is actually quite isolating and negates the benefits of being open plan, where people collaborate and engage more with each other.
3. Transmission of illness
Taking down the walls definitely breaks down barriers, but the lack of physical divides and increased social interaction can also have a downside to your health. Working in an open-plan space is usually associated with increased health and wellbeing, so this may come as a surprise, but working open plan can also increase transmission of illnesses such as colds and the flu. Make sure you have hand gel on hand, to minimise the risks of contracting these viral infections.
4. Lack of leadership
One of the reasons for going open plan might well be to break down hierarchy, but this can have a rebound effect when it comes to effective leadership. Being open plan definitely promotes a more cohesive workforce, but it can lead to issues with chain of command. It's therefore important to ensure that the office layout still defines who has superiority.
5. Loss of privacy
The majority of workers embrace working open plan, but there will always be some that need privacy and just want to get on with their work. Also, sometimes work is sensitive, and being able to see everybody else's screen is a hinderance.
In order to counteract the disadvantages, many forward-thinking businesses are now mixing their office spaces, incorporating large, light open-plan spaces with small break-out zones. These break-out (or focus) zones allow individuals to get away from their usual workstation, and provide a well needed space for them to work in a more solitary manner, or just to unwind and re-energise. Rather than sit in a stuffy boardroom for a meeting, these creative spaces are also excellent for smaller working groups and really help improve productivity. Companies can get really innovative with these spaces, depending on the budget. It's actually a good idea to provide a strong contrast to the normal work area, to allow employees to mentally – as well as physically – step away from their desks.
Another option for businesses to provide a degree of separation without encroaching on the open-plan design, is to install glass partition walls around any meeting rooms. This will ensure that light still floods the space, but also give a degree of privacy. If confidentiality is an issue, then smart glass technology can be incorporated, turning a clear glass wall opaque at the flick of a switch.
If you're looking to reconfigure your office or to create a new commercial space, then please don't hesitate get in touch. For over 30 years, we've been providing businesses with solutions to their commercial office requirements and pride ourselves on remaining at the cutting edge of design innovation. Contact us on 01256 769343 and see how we can help you create the perfect collaborative, open-plan workspace.