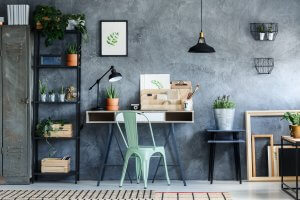 Let's face it, in today's competitive employment market, companies vie not only for business and work contracts but also to attract the best candidates. You may be the best graphic design company in your area, but if your office looks like a throwback to the 80's, with fabric partition walls, dimly lit desks and uninspiring decor, then you'll not only turn off potential customers but also fail to attract the best candidate for the job.
You may be the best graphic design company in your area, but if your office looks like a throwback to the 80's, with fabric partition walls, dimly lit desks and uninspiring decor, then you'll not only turn off potential customers but also fail to attract the best candidate for the job.
So what can you do to brighten up and improve your office? How can you create spaces that not only impress potential clients but also inspire the workforce, allowing them to collaborate in a comfortable yet stimulating environment? In a previous post, we've discussed the most popular office design ideas for 2019, and here we'll give you the top ten tips to brighten up and fast forward your office into the 21st Century:
1. Open up the Space, to Let in Light
Rather than put up with a warren of closed off cubicles, in recent years many businesses have moved to open plan configurations. But if you really want to create an open, bright, airy atmosphere then you should allow more natural light in. One easy way to do this is to remove dark window shades and install intelligent shades that can be controlled remotely or be set to close at a particular time, depending on the direction that your office faces. If your budget allows, you can install floor to ceiling windows or even add skylights to maximise natural light.
2. Think Glass Partition Walls
One of the most popular ways to let more light into an office is to remove solid walls and doors and install glass partition walls. These can also be suspended from the ceiling, meaning that the office becomes an organic space, one that can easily be reorganised according to your business needs. There's really no better way to give your office an instant facelift and make it look uber cool and chic.
If you need privacy in certain areas, say for a meeting room or boardroom, then you can install smart glass. This amazing innovation allows you to change the glass from clear to opaque at the flick of a switch, using liquid crystal technology. It doesn't have to break the budget either as you can either splurge on glass with the built-in technology or simply purchase film that is applied to the glass. Easy to clean and virtually invisible to the human eye, this is a really popular option when budgets are tight.
3. Bring nature in with a living wall
Hard edges and sleek designs are fantastic, but in order to really improve the mood of any workplace, you need to think about bringing the outside in – not just light but also nature. Some interesting planting will not only make your office look more appealing but also really help boost the mood among work colleagues – and no, that decrepit spider plant in the corner really won't do it.
Forward-thinking business owners are going one step further and using 'living walls' to incorporate nature into their urban environment. These self-sufficient vertical gardens can be attached to an exterior or interior wall and are easy to customise to most spaces. Rather than simply a façade that's rooted into the ground, these plants are actually rooted into substrate and will have a built-in irrigation system. Not only are these sublimely beautiful to look at, but they can also improve air purification and help to humidify a dry office atmosphere. Health and wellbeing are now really important considerations for business owners and this is a great way to improve the office ambience and working environment. Happy workers are known to be more productive and have lower sickness rates, so this really is a win-win option.
4. Create break out spaces and focus zones.
In order to boost creativity, see if you have room to create break out spaces – or focus zones – within your office. Rather than remain bound to a desk, or sit in a formal conference room, these smaller zones are great for individuals to get away from their usual workspace. They're really important as they're a great space for employees to relax and reenergise, find inspiration when they've hit a mental block, or collaborate in smaller groups.
There are so many options available, depending on the space available and your budget, from a simple sofa and chairs to benches and whiteboards. This option is really easy to achieve and will dramatically increase productivity and happiness in your workplace.
5. Don't forget branding and messaging
If you have clients visiting your offices then a great way to brighten up the office and remain on brand is to jazz up your internal signage. You can create bright acrylic signage, or go for the lower-cost option of vinyl wall lettering. This is not only visually appealing, but helps reinforce your brand messaging. If you've installed glass partition walls, consider having your logo frosted into the glass.
6. Improve the storage
There's nothing more off-putting than a cluttered office. So invest in some modern storage options and help update your tired office space. A simple trip to Ikea and those best-selling Billy Bookcase could be all you need to spruce up your tired décor. There's also some great modular furniture out there that can be ordered to fit your office layout, consult a design team for the best options. Think about something other than boring white or grey as well – a splash of primary colour can give the office a real facelift and help it appear bang on trend.
7. Look at standing desks
Updating your office is about more than sprucing up the walls and layout, you need to look at the furniture you've installed as well, especially the desks.
No longer something to simply work on, desks are now multi-functional assets for any office. It's a known fact that sitting down all day isn't good for anyone – it's important to get up, move around and get that circulation going again. That's why standing desks are now really popular and a great way to boost productivity and wellbeing among your workforce. Employees with back issues in particular will thank you for installing adjustable standing desks; these can be raised to standing and lowered to normal desk height as required. Another option is to purchase on-desk solutions; these fit above a normal desk and allow the computer and keyboard to be raised to standing height.
8. Invest in desk exercise equipment
We all know the mantra 'healthy body, healthy mind' and nowhere is this more true than in today's fitness-obsessed society. If you have the space in your office, why not install treadmill workstations? As well as helping promote a healthy body weight, treadmill desks have also been proven to improve mood and creativity and decrease stress, as well as lower blood pressure.
Desks with exercise bikes are also becoming increasingly popular. These will normally just house a desk large enough for a laptop, but employees love the idea of sneaking in some cardio, working the body as well as the mind, so they're sure to be a popular option.
9. Create hot desk zones
In recent years, the ability to work remotely has led to a revolution in office dynamics. No longer bound by the 9 to 5, certain workers can flex their hours and don't necessarily need to occupy a desk during their working hours. This is not only good for the employee, but also means that companies are no longer limited in size – and growth – by the spaces they inhabit. Employees can hot desk, working from home and coming into the office at irregular hours, sharing a desk with colleagues.
However, this needs to be managed – no one wants to arrive at the office and find there's nowhere to work. So offices are typically installing a mix of full-time desks and hot desk 'zones'. These latter areas typically have adjustable seats and desks that can easily fit the ergonomic needs of any employee. If you're looking to update your layout, then definitely consider installing an area for hot desking, it will benefit your business in the long run.
10. Don't forget the finishing touches
It's easy to blow the budget during an office refurb and neglect the small finishing touches that can really bring an office design together. You might have amazing workstations, fantastic branding and a gorgeous living wall, but add the right artwork, book storage and soft furnishings and you'll really bring the design together. We've all seen this in home renovation programmes – without the right finishing touches, you've really only got the bare bones of any design project. So take a step back and really look at your office, even the smallest of budgets will allow for bright scatter cushions or the right print to set the design off nicely.
We hope these ideas will help provide inspiration if you're considering giving your office a facelift. It can be hard to know where to start, so if you need help then contact our design team on 01256 769343 and we can help bring your vision to reality, on budget and according to your timeframe.