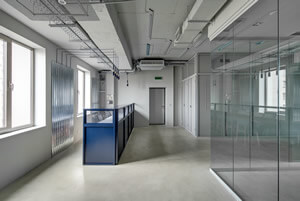 When it comes to designing a new office, or renovating an existing commercial premises, it's really important to think about creating a workspace that fosters productivity and creativity. Gone are the days of closed-off offices and depressing warrens of cubicles. Modern offices tend to be light, open and airy spaces, that are not only a pleasure to work in but also project a professional image to visitors. However, even the most open-plan office will still require private areas. Be that for a boardroom, meeting rooms, chill-out areas or small, collaborative 'break out' zones. Indeed, research shows that working in a completely open plan space can actually decrease face to face communication, and lead to staff feeling more withdrawn, so maybe it's time to reconsider that hip office plan and go for a modern take on a traditional workspace, with clear boundaries that still maintain an open feel.
In order to provide noise-free, private areas, many businesses are now investing in office partitions. These solid structures are the easiest and most cost-effective way to alter an office layout. They can be installed with minimal fuss, avoiding the need for distracting and messy building work and can be tailored to your space. Moreover, they don't have to be permanent fixtures, allowing companies to organically grow and alter their layout, over time.
Office partitions come in a wide range of styles, including glass, wood/timber and aluminium. These each bring a very different aesthetic to an office, and each comes with their own functionality and benefits.
Glass Partitions
This type of office partition is probably the most popular choice for offices and businesses. Glass partition walls convey a sleek and modern look, and a bright, clean image. This modern styling delivers benefits beyond the practical. Glass allows natural light to flood through an office, which is extremely beneficial for the workforce. This improves company morale, promoting health and wellbeing, and the boosted vitamin D levels can reduce the number of sick days among employees. This will mean cost savings for your business; and the savings don't end here, as there will be less need for artificial light, lowering your energy bills.
Glass partition walls also lend themselves to branding. Indeed, when it comes to the finish on your glass, the choices are endless. You can etch your logo onto the glass, use decal stickers or frosting on the glazing. This will ensure your branding is perfectly positioned to reinforce a professional image, and can really bring a design theme together.
Another health benefit relates to fire safety in the workplace. Fire rated glass is an essential component for many office buildings, helping them comply with fire regulations. If you're installing glass partitions, you can contribute to the fire safety of your building by installing fire-rated glass. This glass offers protection from flames, smoke and toxins, giving employees precious time to evacuate in times of emergency. Fire-rated glass is capable of withstanding temperatures above 870°C and typically provides up to 2 hours of protection.
In terms of aesthetics, you don't need cumbersome blinds to ensure privacy. You might have seen switchable glass on Channel 4's Grand Designs. This clever technology, also known as smart glass, allows you to turn glass walls from clear to opaque, at the flick of a switch. This type of glass partition wall is a fantastic option for meeting rooms, allowing instant privacy.
Finally, when it comes to glass partitions, the appliance of science doesn't stop at fire safety and visibility, but specialist acoustic laminated glass is also available. This noise-damping glass will help soundproof even the busiest of offices and is especially useful where sales meets creativity.
Wood/timber Partitions
For a more traditional, elegant look that enhances natural warmth, you should look at wooden partition walls. Available not only in solid wood, but also engineered MDF, there are a wide variety of styles, trims and finishes on offer. These partition walls definitely add a touch of class to any office, and can be used to create ambience in another otherwise sterile environment.
When it comes to your office design, there are plenty of wood options on offer, including oak, maple and cherry, to match in with your décor. The great thing about these walls is that not only do they convey a unique look and feel to a workspace, but that their functionality doesn't stop at breaking up a space. Wood and timber partition walls can be tailored to your specific needs. For example, if natural light is an issue, then glazed sections can be incorporated, allowing light to flow through. They can also be soundproofed to provide up to Rw 40 dB sound reduction – so they're a great option for commercial spaces and can be customised for an office, school hall or even concert space.
The benefits don't stop there; you might be worried about fire safety, given this is wood, right? Well, don't worry. Modern wood and timber partitions are built with fire safety in mind and a solid wall will provide a fire rating of up to 60 minutes.
So if you're looking for aesthetic appeal and to create a sense of the dramatic, without losing functionality, then wooden partition walls could be right for your office.
Aluminium Partitions
Aluminium partition walls may not have the aesthetic appeal of glass or the warmth of wood, but for many reasons, these are the practical choice for many office fit-outs.
These walls are often the most cost-effective partition solution for offices, so if your budget is tight then this could be the best option for your business. Aluminium partition walls are available in solid units, with part or double glazing also an option if you're looking to maximise natural light.
The reason aluminium is a popular choice for internal construction is down to its unique properties. It's a very light metal, resistant to corrosion, non-magnetic and durable. Because of its high tensile strength, the walls can be incredibly thin, so this type of partition will take up far less room than their glass or wooden counterpart. Aluminium partition walls are also quick and easy to install, as well as being straightforward to demount and relocate, should your office layout change. They really are a versatile choice, whatever the workspace.
Additional benefits include customisation – just as glass can be embellished, so can aluminium walls be painted or branded using vinyl signage. The metal structures also meet fire regulations, with both solid and glazed options providing a 60 minute fire rating. Finally, as we know, business owners aren't just looking to divide spaces; they also need to know that the individual spaces can function autonomously from external spaces and corridors, with minimal disruption. Unlike the fire rating, soundproofing supplied by an aluminium partition wall will differ depending on whether it has glazing, with solid walls providing sound reductions of up to 52 dB, and glazed models providing up to 43dB.
Other Creative Options
If you don't want to fully block out an area with a floor to ceiling partition, there are other options available. These include whiteboard screens, or even magnetic or pin boards for some 'blue-sky thinking'. We recommend you research Pinterest for some truly creative options – really, anything goes, from shipping pallets and bookshelves to Lego, there are so many choices out there! While not necessarily the professional image required for the majority of office spaces, if you're a small start-up with a limited budget, this could be just the inspiration you need for the strategic layout you're after.
So there you have it, everything and more you need to know about successfully dividing up your workspace. Here at Sandhurst Interiors, we have extensive experience of providing office solutions for commercial businesses. We can help maximise the potential of your workspace, drawing on years of experience to make sure all your needs are met – not just in terms of budget and timing, but also with employee health, wellbeing and productivity in mind. For our expert advice, please contact us on 01256 769343 or complete our online contact form and see how we can help with your office fit-out.