Project
Office redecoration works to Fleet Street Law Chambers and storage wall installation to Farnham Head Office.
Customer Brief
Redecorate Fleet Street Law Chambers, including partitioning demolition works to 4th floor office. Office was to remain open with storage for files to remain in-situ. Storage wall works included demolition of existing office partitions, dismantling and moving existing storage wall from 2nd floor to ground floor and installation of new bays to increase storage for head office.
Product solutions
Diamond matt scrubbable paint for all walls, water based gloss for all woodwork to reduce fumes so that all staff could continue to work safely. Bespoke storage wall solutions provided by Nott Office.
Phases of work
One continuous phase over 2 weeks, partitioning and wall storage work carried out over 2 weekends.
Customer review
'Dominic and his team went beyond the call of duty working late into the night and over the weekends to ensure the office was completed to the highest of standards with minimal impact to the working environment. We look forward to working with Sandhurst Interiors in the near future and would highly endorse their services.' Gemma McBride, Head of Operations.
Before Fleet Street office redecoration
Farnham office wall move and reconfigure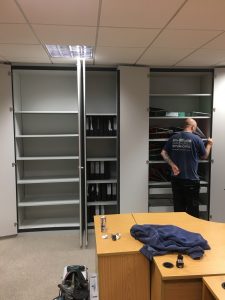 Farnham office new storage wall installation