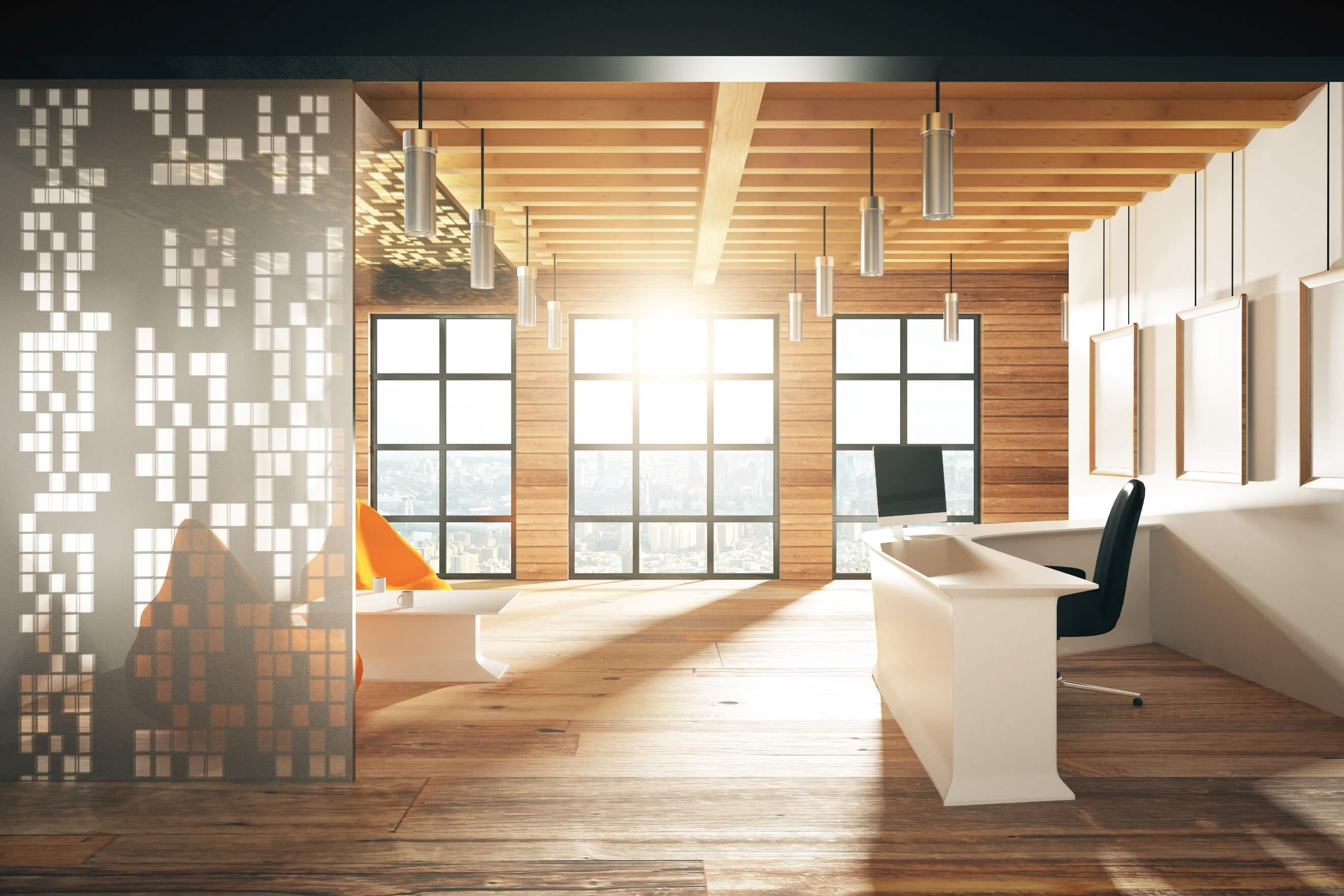 When it comes to how your business is perceived by potential customers and investors, first impressions definitely count. Research shows that people make a first impression of others within a tenth of a second, which is basically the blink of an eye. Similarly, research conducted by Google shows that websites are judged within 50 milliseconds, so when it comes to the entrance to your office, you don't get a second chance to make that first impression.
When it comes to office design and renovation, all too often companies with limited budgets focus solely on workspace and workstation layout, neglecting their commercial reception area until the last minute, or when funds allow. However, the reception is an incredibly important space. It's where you set out your brand, and no matter what type of business you run, it's imperative that it's inviting and professional and projects a positive image. Here are our tips for ensuring your reception is on brand, inviting and projects a positive first impression:
1. Prominent Branding
The chances are clients will spend a good few minutes at least in your reception area, so this is where you need to firmly establish your brand. Ensure your company logo is prominently displayed, ideally on the reception desk and on a well-lit wall. You can choose higher end glass or acrylic branded signs or go for the more cost-effective vinyl signage, which can be equally as effective if displayed correctly. Additionally, think about your brand colours and use the colour palette in your choice of soft furnishings, furnishings and artwork, to reinforce your brand. Even subliminally, this method of staying on brand is really effective and demonstrates an attention to detail that will really impress your visitors.
2. Showcase your Products
The reception is a great space for showcasing your products and the services you have to offer, so don't miss the opportunity to display printed items such as company brochures, magazines and press releases. You can even show off examples of your work in display cabinets or on flat-screen TVs, depending on the type of business you work in and your budget.
3. Pleasant Lighting
There's nothing worse than a dark, dismal office. None of us want to work in one, so why make your visitors sit in a dimly lit space? Equally, harsh lighting and old-fashioned strip lighting is really harsh and uncomfortable on the eyes. Instead, install soft, warm LED lighting and focus on lights around the reception desk, which will also help to draw your guests in. You can also use halo lighting – recessed downlights – around and behind your company logo for a more dramatic effect and to enhance the ambience of your reception area. If your reception area is small, you can also use glass partition walls to open up space.
4. A Good Reception Desk
When purchasing your reception desk, think about how it will be used and where best to place it. The office needs to flow, and visitors need to clearly see their way through to where they need to go. Correct placement of lighting around the reception desk will help, as well as adequate signage within the general area. Make sure the desk itself is a good height and the correct size for the number of receptionists and footfall you expect.
5. Clean and Uncluttered
This ties in with the professional image you want to portray. Make sure your reception area is regularly cleaned, and any used mugs, cups and litter are tidied away in well-placed bins. Have an umbrella stand and coat rack on hand for inclement days, and install a good entrance mat if people are coming in straight from the street. Even dark floor tiles will show the mud, so a small investment here will really make a difference to the look and feel of your office.
6. Furniture and furnishings
As well as the reception desk itself and the branding, you'll need to consider the space and work out how and where to place any seating and tables. Hard edges may look sleek, but ensure you have some nice soft furnishings as well, to ensure your visitors' comfort. If you have a large reception area, or share reception with other businesses, then privacy booths are another nice touch so people can have conversations undisturbed, and find peace and quiet if they need to work.
7. Add Some Greenery
Health and wellbeing are at the top of all forward-thinking business owners, and what better way to do this than bring some soothing elements from nature into your office space? In your reception area, this can be as simple as a few potted plants or fresh flower arrangements.
But if you have the space, and the budget, then a living wall is a fantastic and dramatic way to add soothing elements to an urban environment. A living wall is essentially a vertical garden that can be attached to an internal office wall. These walls are self-sufficient as the plants are rooted in a growing medium and have built-in irrigation systems. Not only beautiful to look at, the plants help regulate air purity and humidity, so will create a lovely environment for visitors to experience while they wait.
8. Think Refreshments
Another nice touch for visitors is providing them with a refreshment area. A water fountain and tea and coffee making facilities will make your visitors feel more comfortable, especially if they might have a longer wait. Just see point 4 above and make sure the area is regularly cleaned.
9. Power Up
Yes, it's great to have a water fountain and tea and coffee machines if the space allows, but if you want to make your visitors truly comfortable in today's techno era then think about installing charging stations. This small upgrade will elevate your reception area from average to impressive, and we guarantee visitors will be eternally grateful to be able to charge their phone or laptop while waiting for a meeting. You needn't just install plug points, you can also invest in wireless charging tables for your seating area, these look sleek and can charge multiple devices simultaneously.
So as you can see, with some forward planning, even the smallest of spaces can be converted into a well-functioning and impressive reception area. If you need help with the design or installation of your reception, then our team of experts are on hand to guide you to the best decisions for your business. Call us on 01256 769343 to discuss your design requirements and see how we can help deliver the reception area you need.