Suspended ceilings are one of our specialities, being extremely versatile they can work in a wide range of spaces from schools to hospitals and offices. The range of ceilings is extensive so you're sure to find something that will fit your space perfectly. Whatever you're looking for we're committed to working with our clients with one aim, 100% customer satisfaction!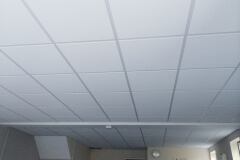 A suspended ceiling installed by us will:
Improve the aesthetic appeal of your space
Integrate effectively into the building's infrastructure allowing for installation of ceiling mounted lighting and services
Provide a number of different fire resistant rated options depending on the specification and application
Due to the easy to remove panels repairs and alterations are simplified
Ease of access for maintenance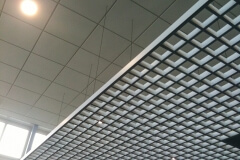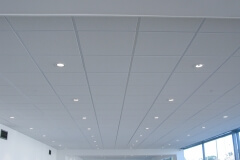 Finding the right ceiling for you:
EXPOSED GRID
Exposed grid ceilings consist of a wire grid measuring either 600x600mm or 600x1200mm supporting ceiling tiles, the grid is made up of main tees and cross tees. The ceiling is hung from galvanised spun wires or dedicated adjustable hangers. Access to services is gained by simply lifting the tile from the ceiling grid. This ceiling type is designed for use in a commercial setting with aesthetic, acoustic and fire rated resistance dependant on specification and application. Ceiling tile edge details and face finishes are varied, providing many finish options.
What are the benefits of this system?
This system allows for the integration of lighting panels, spotlights, downlights, ventilation & fire/ smoke alarm systems.
Economical
High recycled content available
Specifications vary depending on the purpose of the space where the ceiling is installed, for example systems intended for a healthcare setting can withstand cleaning and disinfecting chemicals, likewise if you have a catering setting some specifications are suitable for use in food processing areas.
Some ceilings also have options for exterior environments.
We can even provide the grid and tiles in a range of colour finishes!
CONCEALED GRID
This type of ceiling gives a smooth look as the grid is concealed from view by the clip on tiles. Some may find this look more aesthetically pleasing. Modular or circular lighting and grids can be integrated within the clip in system.
What are the benefits of this system?
Offers a clean, unique look of a continuous ceiling
Certain specifications and manufacturers offer fire rated assemblies up to 3 hours
MF (METAL FURRING) ceiling
This ceiling type utilises a concealed galvanised metal framework with a plasterboard face that is taped and jointed to provide a smooth finish ready for decorating. They offer both acoustic, fire rated & aesthetic properties, dependant on application & specification. MF ceilings can be installed with many decorative shapes including curves, tiers for concealed lighting & as stand-alone 'clouds' allowing for the industrial office finish of an exposed soffit.
What are the benefits of this system?
The MF ceiling is a perfect fit for customer/client facing commercial areas such as showrooms, boardrooms & reception areas.
All services can be fully integrated into this ceiling type at time of installation.
We have extensive portfolio of successful projects ready for you to view. To speak our professional, skilled and dedicated team about your requirements don't hesitate to get in touch today!
Please call 01256 769343 or fill in the form in the contact us section.
Take a look at our other services, including;