Installing office partition systems is one of our specialities. Space planning & installing the correct partitioning in your workplace is essential in terms of creating the right working atmosphere for your staff. Whether you need a 'sound proof' cubicle for private working, area dividers within an open plan office or glazed offices & meeting rooms, please get in contact with our professional team who will be able to work with you on your project from the start through to completion.

Benefits of Office Partitioning:
Modern partition systems are de-mountable providing a flexible working space for the future
Create smaller work spaces within a large office for management, to make phone calls and hold smaller meetings through to boardroom sized areas for your entire workforce
Creates segregated break out areas & tea points, changing facilities, storerooms, server rooms etc.
Systems supplied in a variety of specification & colour finishes allowing a personalisation of your work space
Helps to create a welcoming and productive environment
There are many types of partitioning available, glass is great for creating the illusion of open space and letting more natural light into the office. Partitions can be personalised to fit in with the office décor or to stand out as they can be finished in a variety of colours and styles. If you would like to change the layout of your office or improve the functionality of your space we are specialists in existing systems alterations of both old & new styles.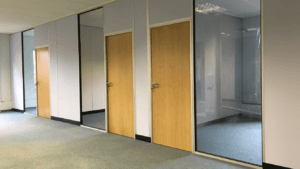 To discuss your office partitioning requirements call us today on 01256 769343
Take a look at our other services, including;