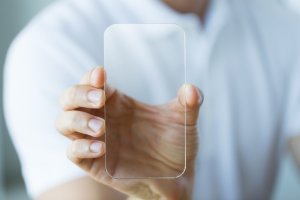 In the past, office spaces were defined by the very structures that bound them – the position of walls, windows and power supply. Now, with the advent of suspended ceilings and WiFi connectivity, offices are far more adaptable and can easily be rearranged without the restraints of trying to work in a space created for someone else or another business. However, this is only part of the story. Just as technology has become embedded in our everyday lives, now even our walls have become smart and connected. We're talking about smart glass, or switchable glass, where electric frosted glass will turn from clear to opaque at the flick of a switch. By installing smart glass, workspaces become extremely elegant and versatile. Not only is smart glass aesthetically pleasing, but it also provides instant privacy and security, transforming an open plan space to clearly defined work areas.
Let's Go through the Looking Glass – the History of Smart Glass…
The concept of smart glass was first introduced as thermochromic glass, which used heat from the sun to tint windows. Although excellent for heat regulation, this application lacked manual control. Then there was polymer dispersed liquid crystal, where a low-voltage electrical charge was used to control transparency. Similar to the technology used in digital watches, the drawback here was that a constant power supply was needed for complete transparency.
The latest version of this technology is known as electrochromic glass. This incorporates liquid crystal molecules that change state when exposed to an electrical charge. When an electrical current passes through these molecules, they align, allowing incident light to pass through and making them clear. When the current is switched off, they revert to a random orientation, diffusing the light and making the glass opaque (this is the private setting). This type of glass can also be dimmed, allowing even greater control of the environment, and only requires the electrical charge for the transition.
Even if you've not noticed it in any buildings yet, the chances are you'll already have seen smart glass. It's actually been used since the 1980s, when tech giant Gentex developed self-dimming rearview mirrors for the automotive industry. If you do a lot of air travel, you'll also have seen smart glass on the Boeing 787 Dreamliner, where it's replaced the plastic window blinds, allowing passengers and crew to control light in the cabin.
Smart Glass – the Options
There are two types of application possible, when it comes to installing smart glass tech:
Switchable smart film
Switchable film is a self-adhesive, opaque smart film that can be retrofitted to existing glass partition walls. It is relatively inexpensive and therefore the most cost-effective option for offices that aren't looking for a complete refit. However, bear in mind that although the film can be applied to most glass surfaces, it is exposed to the elements and therefore vulnerable to humidity, chemicals and accidental damage. 
Switchable Smart Glass
This is a more permanent solution, for those with a higher budget, or buildings where external conditions such as humidity are an issue. Switchable smart glass has a layer of liquid crystals embedded within a laminate of the glass itself. The best time to fit smart glass is definitely during construction, as it requires an electrical cable to be run from each pane of glass. However, if you think that office buildings tend to be mostly made of glass, and can contain thousands of staff members, the cost-saving benefits definitely outweigh any initial investment in the technology.
Just as there are options for the type of smart glass technology you use, there are also several options available for controlling transparency. You're not limited to using a physical switch, privacy can also be controlled using daylight or motion sensors and even from your smartphone, using an App.
Additional Benefits of Smart Glass Technology
It's not just versatility and instant screening that make smart glass such an attractive option for forward-thinking designers. Smart glass also has the following benefits:
By being able to control the amount of light that enters and passes through your office, you can maximise natural sunlight to improve employee wellbeing
Smart glass also blocks more than 98% of UV rays, so is good for your health.
It reduces heat waste, this means not only is it eco-friendly but also that it's energy-efficient, reducing your electricity bills.
Unlike sliding doors or blinds, there are no moving parts so there's less wear and tear.
Installing smart glass will add to the resale value of your property, and make it far more attractive to potential tenants.
If you have works of art or precious furniture, blocking out UV light will also help protect these items.
Further Office Applications
Smart glass can be used to create partition walls, opening up spaces and instantly making them private, but the technology can also be used on external windows and skylights. In addition, the opaque glass can be used as a projection wall for presentations, offering ultimate versatility for your workspace.
What's the Future for Switchable Glass?
Smart glass technology is already infiltrating the automotive and aerospace industries. As we see more switchable glass around us in commercial and office buildings, the trend will also inevitably trickle down from the corporate world to hospitals, schools and universities, as well as residential properties. Although the majority of us will have only seen it on renovation programmes such as Grand Designs, where forward-thinking, eco-friendly home owners look to incorporate cutting edge technology in their new abodes, undoubtedly at some point developers will begin to incorporate smart glass in their new builds, bringing the application to the mainstream. Who knows, as smart glass moves from being a luxury to a necessity, the future may even be one where curtains and blinds are a thing of the past, as is the case for the lovely old typewriter. One thing's for sure, the future for switchable glass is definitely a bright one.
Here at Sandhurst Interiors, we can advise on the best design and installation options for your office design or refit. We've been providing office and commercial refurbishment services since 1988 and pride ourselves on delivering a bespoke service for our clients. Contact us on 01256 769343 and see how we can help you create the perfect office, one where functionality and aesthetics meet cutting edge innovation.