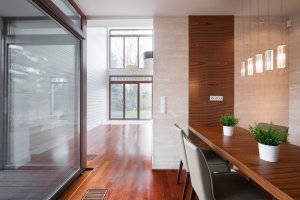 If you're planning an office refurbishment or a complete fit out and need some inspiration, we've put together the most popular trends we're seeing in 2019. Follow our advice and whatever the space you're working with, you'll find ideas to improve your office environment. A happy workforce is a productive workforce, and there are key improvements you can implement to ensure your coworkers and employees are at their happiest.
Create Experience Driven Spaces
When designing an office, businesses are increasingly looking to create experience driven spaces. Creating a quirky and fun breakout space is a great way to boost staff morale. No matter the size of the office or your budget, you should think about incorporating a separate space away from workstations for your staff to kick back and relax. Not only that, but you can also hold informal smaller meetings in these spaces, so they're multi-functional. Here are some great ideas we're seeing incorporated into commercial office designs:
• Private cubicles with soft furnishings – from low level garden style seating to bean bags or even shipping containers with glass walls, creating personal spaces is great for helping staff reenergize.
• Gaming zone – you can go crazy with this one and install snooker tables, ping pong tables or even retro arcade games.
• Coffee station – forget a sterile kitchen, why not provide coffee and tea making facilities with coffee-shop style island seating?
• Library area – be it screen time or magazines and books; a quiet reading area is great for getting some peace and restoring the senses.
Understand that Privacy Matters
Open plan offices became the norm in the '60s and many businesses have stuck to this space-saving approach, adding on the odd meeting or conference room. But in today's more mindful society, businesses are investing in privacy pods or modular booths, so employees can work collaboratively in a more focused space. Using space intelligently makes construction of private booths straightforward and achievable for even smaller or medium sized businesses.
Maximise Space and Light
Gone are the days of grey or blue partition walls and dim, artificial lighting. Today's offices are zoned by glass partition walls, breaking up corporate spaces no matter how large or small. The glazing not only preserves natural light but also provides excellent sound proofing. Suspended ceilings are also increasingly popular, allowing for flexible lighting options and work fantastically with glass partition walls.
Ensure Health and Wellbeing
According to the World Health Organization, by 2020 cardiovascular disease and mental health disorders will be responsible for the majority of non-communicable disease. Forward thinking business owners are therefore becoming increasingly mindful of ways in which to improve the working environment for their employees, with an aim to improving health and wellbeing.
As a result, many businesses are moving toward biophilic design and incorporating soothing elements such as living walls into their office designs. This concept acknowledges that in today's busy urban world, many of us are losing our connection to nature. Incorporating elements of nature has been proven to reduce stress, decrease blood pressure and heart rates, greatly improving productivity and creativity.
A living wall – or vertical wall – grows plants on soil or substrate, and usually has a built-in irrigation system. Not only aesthetically pleasing, it also improves the environment, helping control heat and humidity. Let's face it, it's a far nicer approach than having the odd potted plant, desperate for light and water and standing out incongruously against partition walls. If you don't have a big enough budget or a space fit for a living wall, then think of using moss walls. These can be equally effective and can survive in areas with little to no sunlight.
Make Sure First Impressions Count
Your reception area is incredibly important for setting the right impression to clients and customers. It's where you set the tone for your business – your ethos, culture and services.
Instead of plain seating, many companies are including quirky statement pieces, and incorporating design features such as living walls or digital wall images. Including charging stations is also becoming increasingly popular, and will show visitors you're a forward-thinking business that puts your customer's needs first.
Embrace the Hot Desk Revolution
In recent years, the way we work has changed immeasurably. Hot desking and home working are now the norm for many companies. According to the BBC, who's own hot desking policy was satirised in the comedy series W1A, hot desking can reduce office running costs by up to 30%, improve cross-department communication and stimulate productivity. Not being shackled to the same spot can definitely be a mental breath of fresh air. Businesses implementing hot desking into their ethos install desks, chairs and computer monitors that are easily adjustable and will fit the ergonomic needs of everyone in the office. Plenty of breakout spaces are also provided, so teams can still easily convene for meetings.
Combine the Old with the New
This is a trend that's been emerging for some years. Sympathetic architects are blending original features such as steel beams and exposed brickwork with modern furniture and décor. This is supremely soothing for the mind, and links your working space to an interesting past. If you're not lucky enough to have beautiful brickwork, a quick and easy way to add an element of interest to your office is to install feature wallpaper with a distressed brick design.
Incorporate Collaborative Co-worker Spaces
According to the Office of National Statistics, there are over 4.7 million self-employed people in the UK. While working from home suits some, the loneliness and lack of work-life balance leads many to seek a shared office space. There are many benefits to this arrangement – not only does this earn rent for what would otherwise have been dead space, but for the tenant there's no need to commit to long term leases and the associated running costs. Savvy landlords and business owners are definitely seeing the benefits of this type of office arrangement, with many creating smaller, collaborative spaces to suit these short-term needs and foster collaboration in today's Gig economy. Go creative and unusual to appeal to millennials and Generation Z – after all, these account for 50% of today's workforce. Think cosy work pods, inspiring breakout spaces, phone booths or even a roof garden, if you're lucky enough to have one!
We hope these ideas help inspire you with your commercial design project. If you need any help or advice with the planning, we have experts on hand to make sure you get the optimal design for your workspace. Our highly experienced team will manage the whole process for you, giving you peace of mind that the project will come in within budget and on time. Call us on 01256 769343 to discuss your requirements. Whatever your needs, we have the expertise and vision to deliver.